Cooper Recycling, L.L.C. has built it's name on honesty. We strive in doing the best work and having the best prices available to our customers. Cooper Recycling, L.L.C. deals in buying ferrous and nonferrous scrap metal, baling and providing industrial containers.
We have multiple locations in the Middle Tennessee area to serve you better. We make it our priority to give every customer prompt service. Cooper Recycling serves the smallest to the largest customers, and we also offer dealer prices to frequent customers.
History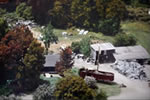 Cooper Recycling is a family owned and operated business. We have been in business for over 25 years. It was started and formally owned by Harlis Qualls who passed away in 1998 of cancer. Cooper Recycling is still owned and operated by some of Harlis' children. Harlis' daughter and son in law bought the business and are running it today along with the help of other family members.
We abide by Tennessee state law for the handling and buying of all scrap metals.